Hey guys! The blog is officially 6 months old, and in appreciation of all the valuable and inspiring things we've picked up on the way, we decided to celebrate it by giving away copies of Margo Lanagan's The Brides of Rollrock Island (reviewed here) and Jennifer Echols' Such a Rush. We'll be having 2 winners and each winner will get both books via The Book Depository.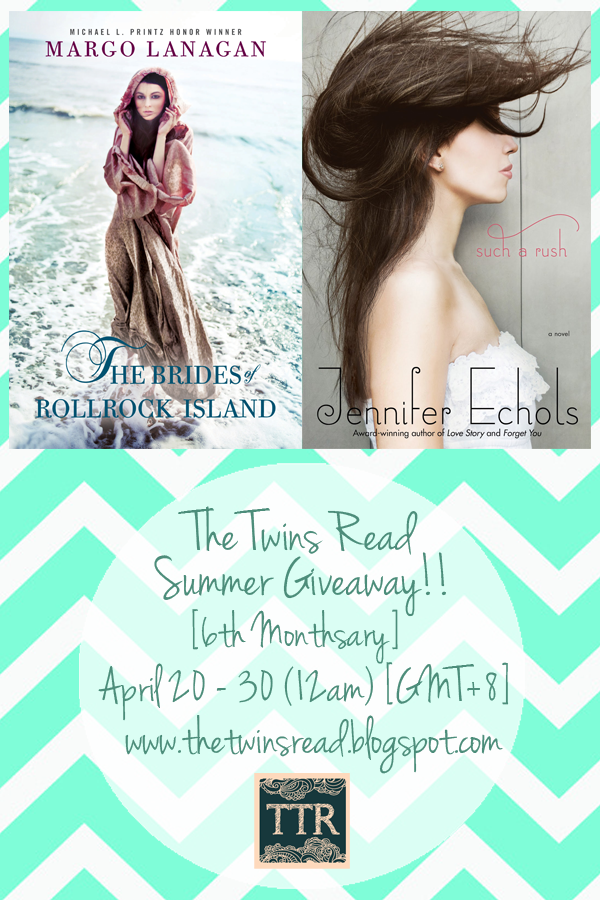 Terms and Conditions:
1. The books will be sent from
bookdepository.co.uk. The Twins Read will not be held liable for any customs / taxes that your country will impose on you. Likewise, The Twins Read will not be held liable for any lost / damaged packages.
2. You must be 12 years old and above to join. Please ask your parent/guardian to join the giveaway for you, if you aren't.
3. If you only use ONE account to do all these tasks and enter under different names, they will still only constitute as ONE entry.
4. If the winner does not respond to messages via Facebook, or e-mail within 48 hours, The Twins Read will have to choose another winner.
5. The covers of the copies you get may be different from the cover used in the The Twins Read promos.
If you have a Philippine address, join this one:
If you reside anywhere else, join this one. (People who reside in the Philippines must not join this one.)