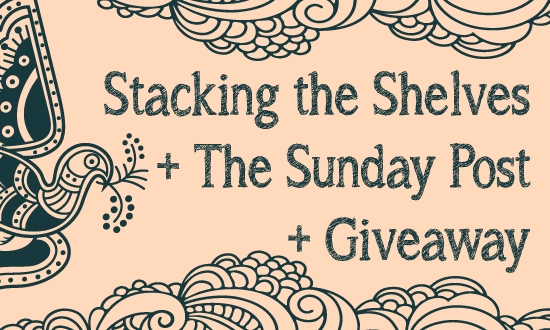 Yes, this is a mega post. The blog is changing its schedule so please bear with us as we're trying to work things out. :)
The Sunday Post is hosted by Kimba over at the Caffeinated Book Reviewer. This post will provide a recap for posts that have been made during the entire week (January 28-February 3, 2013).
Stacking the Shelves

is a weekly meme first initiated by Tynga. This weekly segment will showcase the books/galleys/ARCs we've acquired/purchased/borrowed within the week.
Purchased Books:
Nicole
From top to bottom, left to right:

1. Black Spring by Alison Croggon
2. Nobody by Jennifer Lynn Barnes
3. Perchance to Dream by Lisa Mantchev
4. Splintered by A.G. Howard
From left to right:

1. Pure by Julianna Baggott (Because apparently, someone -coughs- put in a request for Fuse and got accepted, only to realize that the other blogger hasn't even read it yet. Oops.)
2. Through The Ever Night by Veronica Rossi
From left to right, top to bottom:

1. Gravity by Melissa West
2. The Dark Unwinding by Sharon Cameron
3. The Iron Thorn by Caitlin Kittredge
4. The Gathering by Kelley Armstrong
5. Waterfall by Lisa T. Bergren
Michelle
From left to right, top to bottom:
1. The Taker by Alma Katsu
2. Easy by Tammara Webber
3.
Nobody
by
Jennifer Lynn Barnes
4. Graveminder by Melissa Marr
eARC
Belle Epoque by Elizabeth Ross (via NetGalley)

We found an invitation from Ms. Ross to access this gem on NetGalley in our joint email account just earlier this morning, and as it had just been featured on our WoW post, you can only imagine our spazzing.
Thank you, Ms. Ross!
And now we've come to the part that a lot of you guys have been waiting for.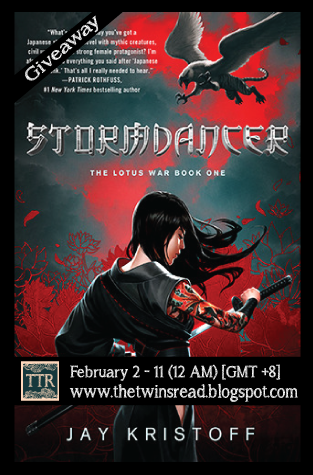 We just hit 100 GFC followers, and we obviously couldn't have done it without you guys.
As token of our appreciation for your support, we're giving away a copy of Jay Kristoff's Stormdancer. You can check out Nicole's review for the book here.
Want more free books? No problem! Get us to 200 followers on GFC, or 100 on Networked Blogs, and we'll give more away!
Terms and Conditions:
1. The contest is open INTERNATIONALLY
and will be sent from bookdepository.co.uk. The Twins Read will not be held liable for any customs / taxes that your country will impose on you. Likewise, The Twins Read will not be held liable for any lost / damaged packages.
2. You must be 12 years old and above to join. Please ask your parent/guardian to join the giveaway for you, if you aren't.
3. If you only use ONE account to do all these tasks and enter under different names, they will still only constitute as ONE entry.
4. If the winner does not respond to messages via Facebook, or e-mail within 48 hours, The Twins Read will have to choose another winner.
a Rafflecopter giveaway
Have a great week ahead, you guys!